This week at SEOPartner, we're sharing: SEO updates that can deliver significant impact to your results, exciting changes in the marketplace to watch out for, good-to-know studies and information, and tips to try based on recent findings on search, online marketing and more.
Google Redesigns Mobile App
Google is rolling out a mobile app redesign that makes information search easier and more personalized than ever.
With the update, users can seamlessly switch back and forth between two information sections: 1) Feed, which shows the users' topics of interest and 2) Upcoming, which manages personal info and schedule.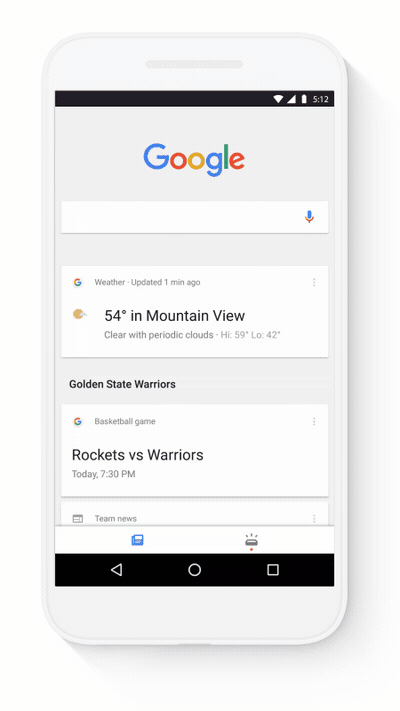 "Your cards will be organized into two sections: a feed that keeps you current on your interests like sports, news, and entertainment, and a section for your upcoming personal info, like flights, appointments and more," Google's product manager Fred Brewin says in the announcement.
The update is now available in the Android version of Google app and will soon be accessible to iOS.
Source and demo via: https://blog.google/products/search/google-app-update-making-it-easier-keep-things-you-need-know/
Marketing Budgets to Rise in 2017

Budgets for marketing continue to increase in 2016 and expected to go higher in 2017, the latest Gartner Chief Marketing Officer (CMO) Spend Survey reports.
The annual survey, now on its fifth year, studies the spending plans and priorities of marketing leaders in North America and the UK. Some of the highlights of the 2016-2017 report include:
– Companies spent 12% of their revenue for marketing in 2016, an increase from the marketing budgets of 11% in 2015 and 10% in 2014.
– 55% of marketing leaders say they expect budgets to further increase in 2017.
– But 14% are saying they are bracing for budget cuts next year.
The survey also identifies the three areas with the biggest marketing allocation:
1. Websites – Companies are preparing for bigger website budgets in 2017
2. Digital commerce
3. Digital advertising
Source: http://searchengineland.com/gartner-cmo-spend-survey-marketing-budgets-continue-rise-264507
WordPress to Require HTTPS in 2017

WordPress will require websites to have HTTPS in 2017. The leading content management system (CMS) will only promote hosting partners that provide a default SSL certification certificate in all their accounts.
WordPress creator Matt Mullenweg says the change is expected to be a hurdle for users. But while implementing SSL used to be difficult and expensive, making the transition to more secure websites has become easier today.
"Modern browsers, and the incredible success of projects like Let's Encrypt have made getting a certificate to secure your site fast, free, and something we think every host should support by default, especially in a post-Snowden era," Mullenweg adds.
Source: https://www.searchenginejournal.com/wordpress-doubling-https-2017/180101/
Social Media is Now Main Medium for Product Launches in the US, UK & Australia

A recent study reveals the vast majority of marketers in the U.S., U.K. and Australia consider social media as the highest-priority medium when it comes to launching new products – beating sales promotions, press releases, television and direct mail.
Social may not be a perfect medium, especially in terms of creating long-term buzz around new products. But the study, conducted by marketing consultancy Five by Five, also showed that the shareable content and engagement on social media are effective in boosting pre-launch interest. Facebook, Twitter, and Snapchat also offer a high level of accessibility that no other marketing channel can reach.
Source: https://searchenginewatch.com/2016/11/30/marketers-now-turn-to-social-for-product-launches/
The Most Notable Local Search Insights of 2016

The vice president of public affairs of the Local Search Association, Wesley Young, shared 10 top insights from 2016 – to help marketers assess the year as it comes to a close and to prepare for 2017.
Exploit the most useful marketing media and technology to simplify your strategy.
Invest in speed for your site.
Don't get stuck exclusively in the traditional search model. Keep up-to-date with new media and models, such as voice search.
Take advantage of third-party listings (e.g. local business directories and review sites).
Don't forget traditional media. In some markets, print media marketing is still an effective and cost-smart way to reach loyal customers.
Reach out to non-local consumers as well.
Look into co-op advertising.
Create content to cater to short, fickle attention spans.
Make your online and offline shopping experiences in synch.
Invest in your online reputation.
Source: http://searchengineland.com/top-10-local-search-insights-2016-264163
Bonus: Where's Santa?

Google has officially launched their annual Santa Tracker and opened the Santa Village.
The countdown to Christmas begins here.
SUMMING IT ALL UP
Here are the top headlines in this week's SEO news roundup:
Marketing Budgets to Rise in 2017. Marketing leaders are expecting marketing spend to further increase in 2017, the latest Gartner CMO Spend Survey reports.

WordPress to Require HTTPS in 2017. WordPress will start to require hosts to have HTTPS available in 2017, and will only promote hosting partners with default SSL certification certificates.

Social Media Now Main Medium for Product Launches in the US, UK and Australia. For more companies, social media is the top priority channel for promoting their product launches.

The Most Notable Local Search Insights of 2016. Know the top 10 local search insights in 2016 to gain takeaways for the closing and incoming years.

Bonus: Where's Santa? The (online) countdown to Christmas officially starts now.
 Reliable Search Engine Optimization help here